Since the beginning of the epidemic, a lot of individuals have been questioning themselves whether they are prepared to talk to new people and return to their normal social lives. Surprisingly high numbers of individuals have said that they do. They report that there was a very strong feeling of community during the epidemic, which is something that they lament having now. People claim that they have established meaningful connections with others via the use of social media.
The epidemic had a significant influence on the bakery and cafe industries; as a result, you need to be aware of the newest coffee culture trends and how to adapt to them.
What are some trends in cafe interior design for 2023?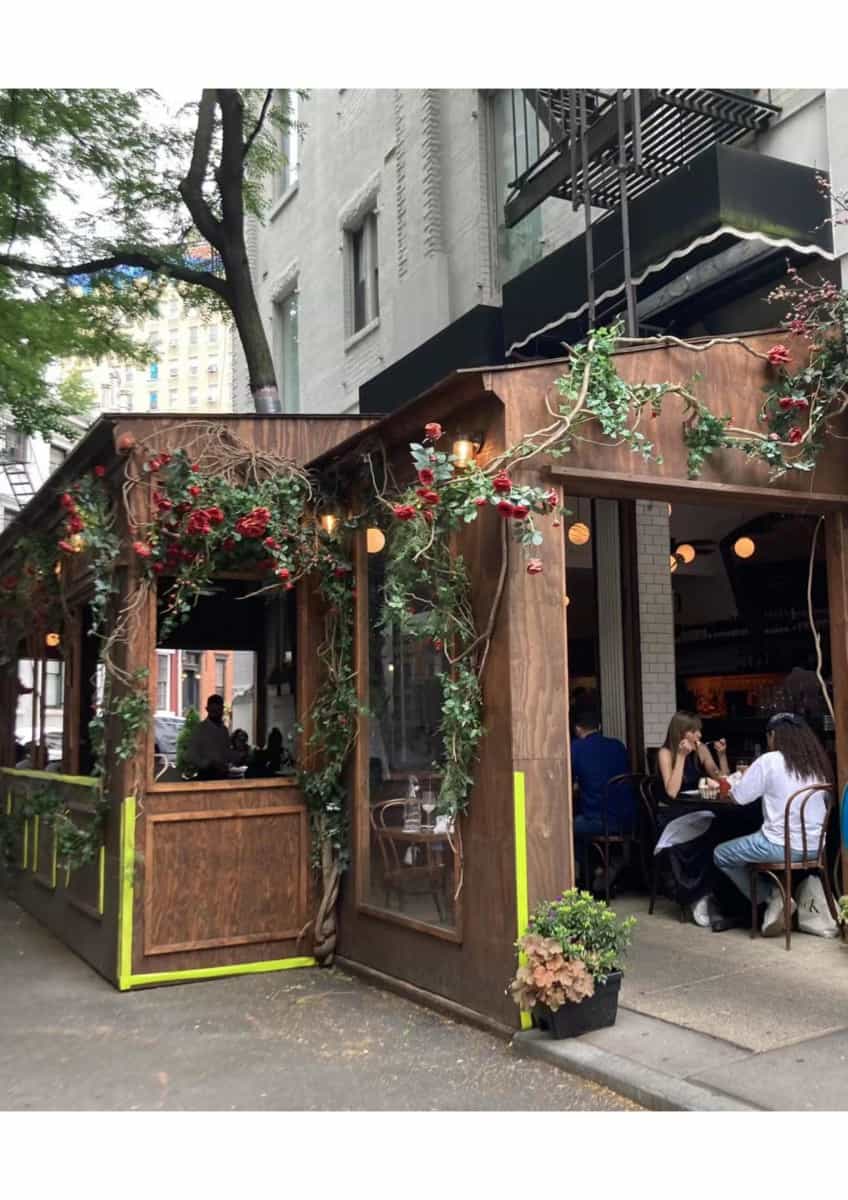 Design with a nature-inspired environment, textures and indoor plants.
The majority of people choose to spend time with their families or friends at cafes. It is essential to design an atmosphere that is cosy and welcoming, and one way to do this is by making use of a variety of natural and textured materials. When people think of nature, images of lush, verdant foliage and vibrant hues often come to mind. The use of indoor plants to create the appearance of a "green café" is one technique to accomplish this goal. In addition to introducing a touch of the natural world, they also provide a feeling of depth and cosiness to the space.
Set a feature wall, drinks, and dishes for KOLs to take photos.
Many individuals believe that a business does not exist if it can not be located through social media platforms. Therefore, it is of the utmost importance to design your cafe in such a manner that your customers will happily whip out their phones and shoot images, after which they will publish these free marketing materials on social media platforms for you.
Because of this, feature walls are becoming more popular in the design of cafes these days. This wall is often situated on the outside of the cafe, and it acts as a point of interest for patrons to snap photographs at the establishment. It is possible to use it to show photographs of the patrons, the employees, or the most current activities that have taken place at the café. It might also be a really large wall that has been painted, or it could be a wall that is covered with plants, neon lights, and signs. Being innovative and having a good appearance are the most important things here. This produces a setting that is enjoyable and participatory for the consumers, which is guaranteed to entice them to come in.
==> Your Cafe NEEDS These Signages
Get great wifi and a cozy work environment.
As an alternative to traditional workplaces, cafes are seeing a surge in popularity. In addition to offering a fantastic atmosphere for networking, they also provide excellent WiFi and seating that is both convenient and comfortable. This is vital for companies that want to establish a consumer base that is loyal to their brand as well as recruit brilliant personnel.
Crossover with local artists.
Art may be used to offer cafes a one-of-a-kind appearance and ambiance. There are a lot of different methods that you can make your café stand apart from the competition, such as hiring local artists or selecting artwork that has a certain theme. If you are searching for something that is genuinely one of a kind, you may want to think about working on the design process with some local artists. They will have an excellent understanding of the preferences of the local population and will be able to come up with ideas that have the potential to really connect with your clientele.
You have the option of allowing the artist to paint on the internal wall, the external wall, or produce works of art that may be put on walls. You could even be able to strike a contract with the artist wherein you assist them with the sale of their artwork in exchange for a fee.
==> Want To Make Your Cafe Stand Out? Try these techniques!
Use bright colors to stand out.
Coffee shops may make their interiors seem livelier and more inviting by making use of a variety of colours. For instance, utilising walls that are a vivid shade of pink or yellow may truly make a room stand out. In addition, using splashes of colour in the form of accessories like as tablecloths and napkins is another way to assist in establishing the mood for the café. A cafe may also choose to take a more lighthearted approach to its design by including fanciful patterns on the walls or brightly coloured foam cups into the decor.
Try a vintage and retro style.
The vintage and retro styles may be fun and fascinating for coffee shops and bakeries, but they need to be implemented tastefully in order to avoid seeming gaudy or out of date. Vintage and retro styles can be fun and interesting for coffee shops and bakeries. Don't overlook the little things; you may give your café a one-of-a-kind appearance by including vintage-looking furniture, decorations, posters, and other items.
==> 5+ Neutral Paint Colour Ideas
Plan your outdoor seating.
As a result of the pandemic, people are increasingly conscious of the need for social distance and air ventilation; hence, outside sitting is becoming an essential component of the design of cafes. People who are passing by the café will be able to see what other customers are ordering to eat and drink, which is great for branding purposes.
There are a few design trends that should be kept in mind when it comes to creating the outside seating for a coffee shop. These trends include: First and foremost, you need to make certain that the seating is attractive and offers a high level of comfort. In addition to this, you need to ensure that the seating is easily accessible and comfortable for both the employees and the customers. Last but not least, you should think about how the seating will appear once it has been exposed to the elements and has aged over time.
Sell bubble tea.
Recently, cafés and bakeries have begun following the trend of offering bubble tea to customers. Some individuals believe that this is a good idea since it may result in a significant increase in profits and draws a greater number of clients. Others contend that bubble tea is not a healthy beverage and that it should not be offered for sale in public establishments such as cafés.
The location of your coffee shop and the kind of customers you are trying to attract will determine whether or not you should serve bubble teas, although doing so is likely to be a popular choice in 2023. Before you change the layout of your kitchen for a full shift, you may want to do a test run by hosting a special bubble tea weekend or promotional week as a low-risk experiment to see how the water flows.
Try order online or take away only.
There is no denying the expansion of online business. The majority of cafés now get more orders online than they do in-person.
It is becoming more common for coffee shops to provide "order online" or "take away only" services to customers, and this trend is growing in popularity. Customers are able to personalise their meals and beverages without having to wait in line as a result of this feature. It also reduces the need for personnel to service many clients at the same time, which is a time-consuming and irritating process that may be avoided. Additionally, it will assist the café in increasing sales and increasing revenue.
In order to keep up with the latest fashion, you will need to make some adjustments to the layout of your café in order to provide space for packing. In addition to this, you will need to reorganise the line that wraps around the counter and include some waiting rooms.
Serve aesthetic coffee.
The drink that you provide has to have an appearance that is just as unique as the layout of your store (For attracting photos for social media platforms). In addition to getting a cute aesthetic cup, a small dessert on the side, and some pretty flower petals, you can also try adding glitters and utilising unusual colours such as layers of blue, purple, yellow, pastel, and pink. Other options include getting a cute aesthetic cup, a small dessert on the side, and some pretty flower petals. Be careful to set the tables in your interior so that the customers who look at the images can easily recognise your cafe or bakery's name and location.
Get an aesthetic for branding.
Bakeries and cafes no longer focus only on serving food or beverages. Customers that are prone to boredom may need that you sometimes switch up the decor of your coffee shop or bakery. At the very least once per one to two years, you need to do a significant update. You may make some little adjustments once every three months, such as switching up the décor style, the colour of the lighting, or the window displays.
You might also work along with a key opinion leader (KOL) or a cartoon figure in order to bring in more traffic. If you decorate your area in a manner that the fans will like, they will come to dine, drink, and most importantly, snap photographs of your establishment.
You have more possibilities than only things with a kawaii style, but anything with that aesthetic is likely to garner a lot of images. The following are examples of trendy cafe aesthetics at the moment:
Kawaii aesthetic cafe
Korean cafe aesthetic
Gaming cafe aesthetic
Dark academia cafe aesthetic
Vintage cafe aesthetic
Plant room cafe aesthetic
==> Click here to read the full list of trending interior aesthetics.
What are some popular trendy cafes in the world?
You are surrounded by a great number of bakeries and coffee shops with excellent reputations that you may visit. It is essential to go on a large number of site visits on a variety of days, at a variety of times, and with a variety of individuals so that you may learn as much as possible from your prospective competition.
Internationally, here are some successful case studies for you to study:
Kawaii monster cafe (Japan Harajuku)(CLOSED)
Pusheen x artbox cafe (UK Brighton)